This page shows one of the mills contracted with CabTec International llc. [中文]
PT Kiani Kertas - East Kalimantan on Borneo, Indonesia
The mill was a greenfield project and includes a town site, airstrip and a port. The site proper is 3400 ha (8,400 acres, 1.3 sq mi) in size. Furnish utilized includes Eucalyptus and Tropical Hardwoods and has a design production of 1850 t/d - the largest single line batch plant in the world (ten 325 cu meter, 13,000 cu ft digesters).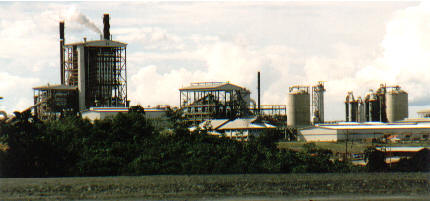 Above: Digester house in center, bleach plant to the right
Special thanks to Jack Pettem, Fiberline Manager for permission of the above photos, 1997.